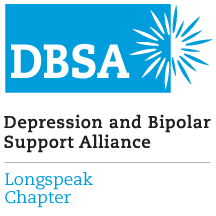 Where Depression meets Recovery
Welcome to our support group. We are a small, dedicated group, Please see 'Meetings' tab for current information on meeting location. We have social events occasionally, giving us an opportunity to socialize, make friends, and spend some time with those who understand our moods best. We welcome those with mood disorders.
Our members struggle with mood disorders of varying levels of severity.We have been through a great deal, and we join weekly to put our collective knowledge to use in supporting and encouraging one another. We also share coping skills.
Our group meetings follow a format provided by national DBSA. We read guidelines at the beginning of each meeting and adhere to them in order to provide a safe and friendly environment. Of course, our most important principle is confidentiality. What is said in meeting stays in meeting, who was at meeting stays at meeting.
Our meetings cover a number of topics. No topic is off limits as long as it relates to our mood disorder and how they affect our lives. We are a procovery focused group, discussing coping strategies and healthy ways to live with our illness. We await to hear from you.
Abstract image of a Bipolar mind
Laurie Woodman
Founder
President
Facilitator
Certified Peer Specialist
​



Due to the stigma, some chose to be annoymous, for varying reasons.
Jodi Benson


Secretary
Facilitator
This website last updated
August 28,2023